Executive Order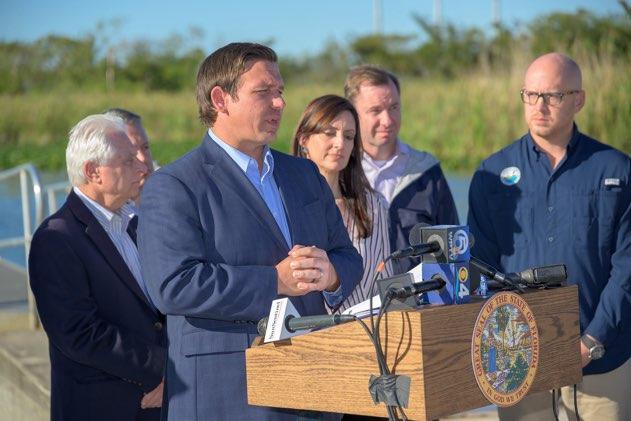 January 10, 2019
Less Than 48 Hours After Being Sworn Into Office, Governor Ron Desantis Issued An Executive Order Outlining His Bold Vision For Florida's Environment.
The Executive Order directs strategic action with a focus on accountability, transparency and collaboration and includes a proposed $2.5 billion investment over four years. This funding – for Everglades restoration and protection of our water resources – is the highest level of funding for restoration in Florida's history.
Water is a key part of Florida's cultural heritage and a clean and abundant supply of water is inextricably linked to our future prosperity and economic well-being. The Florida Department of Environmental Protection, Florida Department of Health and Florida Fish and Wildlife Conservation Commission are working together to protect and restore our environment.
Florida Is Working To Rapidly Improve Water Quality As Evidenced By The Following Actions:
Creation of a Blue-Green Algae Task Force, which is focused on expediting progress toward reducing the adverse impacts of harmful algal blooms (HABs), now and over the next five years.
Re-organizing and funding the Harmful Algal Bloom Task Force, also known as the Red Tide Task Force, to focus on the causes of red tide and complement the efforts of the Blue-Green Algae Task Force and the Florida Red Tide Mitigation and Technology Development Initiative.
Prioritizing projects that will help reduce damaging freshwater discharges from Lake Okeechobee and pursuing the federal government's unfulfilled commitment of an additional $200 million annually for Everglades restoration.
Creating grant programs to help communities gain better access to water supplies and also facilitate septic tank improvement and replacement projects.
Changes At DEP Are Enhancing Effectiveness Through Collaboration And Transparency:
We appointed a Chief Science Officer to lead scientific research and analyze needs to address the state's most pressing environmental concerns.
The Environmental Crimes Enforcement Unit moved from FWC to DEP to align resources focused on protection and ensure strong enforcement of Florida's environmental laws.
A new Office of Environment Accountability and Transparency was created and charged with ensuring key water quality objectives are clearly communicated to the public.
The Governor Has Directed DEP To Protect Florida's Valuable And Vulnerable Coastlines, Including:
Creating an Office of Resilience and Coastal Protection and appointing a chief resilience officer to ensure Florida's coastal communities are fully aware of and prepared for the impacts of sea level rise.
Protecting Florida coastal communities and natural resources by opposing offshore oil and gas activities off the coast in Florida, as well as hydraulic fracturing.