Water Quality Tool Overview
The Water Quality Status Tool Currently Displays Relevant Data For three Major Waterbodies In South Florida And Will Be Rolling Out Statewide Next Year.
Protecting Florida Together's water quality status tool has been developed to deliver to Florida citizens and other interested parties information as it relates to water quality in three major waterbodies in South Florida – the St. Lucie and Caloosahatchee rivers, their respective estuaries and Lake Okeechobee. These waterbodies were selected as they are currently recognized to be among those systems at the greatest risk of adverse impacts due to poor water quality.
This tool is the first step in ensuring transparency and accountability with respect to our water quality data and its exchange with the public. It will be enhanced with additional data and features and expanded statewide next year. Additional data related to beach closures and other health advisories will be displayed and the tool will be able to notify you when the status of your water quality changes. 
This tool was designed based on extensive stakeholder interviews that identified key concerns and desired information about water quality. Information for this tool is currently being provided by DEP, DOH and FWC.
Markers on the display maps indicate the presence and positive identification of harmful algae, the presence of algal toxins and/or other potential effects. Categorical data are described below in greater detail. After clicking on a marker, all data for that location will be displayed and an explanation of the information provided. Markers on this map are associated with location data submitted when samples are taken or reports are made, however, actual environmental conditions can change or move more quickly than this site can be updated. Please take caution to ensure your safety.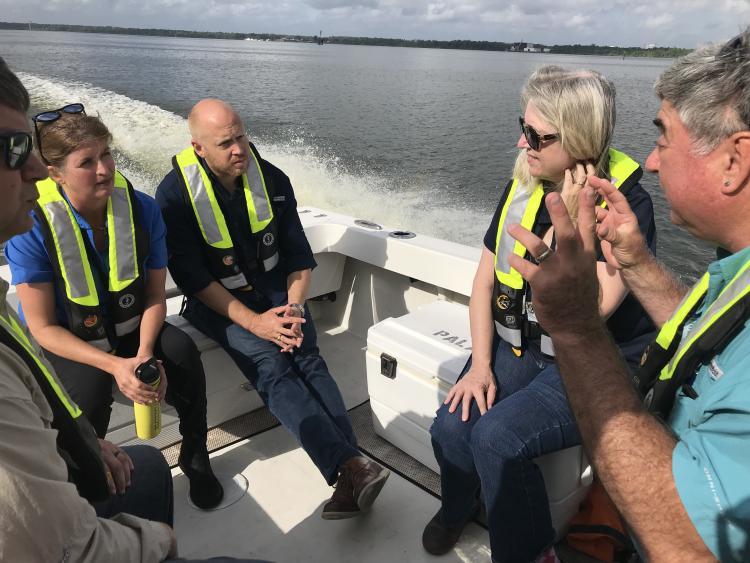 Health notifications displayed on the water quality status tool are intended to communicate known or possible health impacts based on prevailing water quality conditions. Specific health notifications are described in greater detail when you click on a marker.
Health notifications related to red tide and blue-green algae appear solely based on their presence at time of sampling. Relevant language is provided that describes the precautions individuals should take in these areas.
Blue-green algae markers on the map are displayed when blue-green algae has been observed and reported to DEP. Markers for blue-green algae will appear the same day presence is verified by DEP field staff. If algae is not reported again for 10 days at that location, the marker will be removed from the map.
If toxins are detected at any concentration, this will be indicated by a red alert dot on the blue-green algae marker on the map, however it takes approximately three days from the time of reporting for samples to be taken and tested at the lab to identify the presence of toxins, and therefore displayed on the map. Please be aware, however, that blue-green algae can appear or disappear more quickly than reports may be received or updated.
Although blue-green algae occur naturally in Florida's waterbodies, increases in the delivery of nutrients to any particular waterbody can promote algal growth that ultimately leads to the formation of an algal bloom. Other factors that often contribute to algal blooms include warm water temperatures and changes in water flow. Although they can occur at any time, blue-green algae blooms are most common in Florida during the summer and early fall when sunlight is abundant and water temperatures are highest. The summer also brings storms that have the potential to affect the delivery of nutrients into waterways through stormwater runoff.
The Florida Department of Environmental Protection, Florida Fish and Wildlife Conservation Commission and other local and regional entities regularly monitor Florida's water quality, and routinely collect algal bloom samples for analysis. Algal bloom samples are inspected to identify the type of algae present. If the algae identified can produce toxins, the water is then tested to determine if toxins are present and at what concentration. 
Families can use the status tool before visiting featured waterbodies.
Report Freshwater Algal Blooms
Information On Blue-Green Algal Blooms
Report Saltwater Algal Blooms
Information on Red Tide or Other Saltwater Blooms:
Red tide markers are displayed on the map when the algae that causes red tide, Karenia brevis, has been detected above background concentrations. Data is received from FWC daily.
Each marker will include a colored dot (white, yellow, orange or red) indicating the concentration level of red tide present at that location.  If red tide is not reported again after eight days at that location, the marker will be removed from the map. Our efforts and research on HABs have been sustained at a high level for many years. Red tide occurs naturally almost every year. Since the severe blooms in 2018, the state and its partners have placed a renewed effort on collaboration and communication of HAB-related information to the public.
The Protecting Florida Together water quality tool will provide you with information on reported red tide conditions and other health and safety information related to red tide as a water quality concern.
Markers are displayed where DEP and its partner agencies have monitoring data for nutrients and chlorophyll. To put the reported nutrient levels in context, the marker detail contains dials that indicate the applicable water quality standard along with the annual average for that location. Markers are shown at locations where nutrient (nitrogen and phosphorus) and chlorophyll a data have been collected for monitoring water quality or project implementation and represent historical data, rather than a real time measurement. The frequency with which samples are taken from those locations may range from annually to weekly, depending on the protocol for that specific site. The actual nutrient or chlorophyll levels may vary from these data points.
We compile data on nutrients that can fuel harmful algal blooms, nitrogen and phosphorus specifically. We also compile and report data on algal abundance using a widely accepted proxy known as chlorophyll. By combining this information and putting it into one resource, we are doing more to keep the public informed on water quality issues. When you hear about water quality issues in featured waterbodies, you can use the status tool to check current nutrient and chlorophyll concentrations and how they relate to water quality standards.
Additional detail on the data and methodology for red tide and nutrients and chlorophyll is provided below.  
Red Tide
Red tide data are exported daily from the FWC-FWRI HAB Database and represent the most recent eight days of sampling location points for the phytoplankton that causes red tide, Karenia brevis. While every practical step has been taken to provide accurate data, the need for rapid distribution precludes extensive review.  Additionally, sampling locations that show an absence of Karenia brevis are not depicted on the Protecting Florida Together status tool.  However, we intend to make this information available as we build out this site.
Please reference the WC-FWRI HAB Monitoring Database as a primary source for all Florida related red tide data.  
If you have any questions or should you wish to share this data further, please contact HABData@myfwc.com to facilitate that process.
Nutrients & Chlorophyll
The nutrient water quality "annual average" data represent annual geometric means of the Total Nitrogen (TN), Total Phosphorus (TP), and Chlorophyll sampling conducted at the selected sampling location during calendar year 2018. The calculation of the annual geometric mean used information extracted from the department's database on July 23, 2019. The TN result uses the "Nitrogen-Total" field from the database instead of manually summing the "Nitrogen-Total Kjeldahl" and "Nitrate-Nitrite (N)" fields. The minimum number of sampling results to calculate an annual geometric mean at each station is four (by parameter). Station-parameter combinations with less than four results are indicated by the label "Insufficient Data." Not all the data are useable in annual geometric mean calculations; "qualified" data are reported results that come with cautions about how they should be used and interpreted.
Samples with U, V, or Q qualifier codes were omitted from calculations.
Samples with I qualifier codes were set to the minimum detection level of the analysis.