Water Quality Map Overview
The Protecting Florida Together water quality map delivers relevant water quality information statewide including blue-green algae, red tide and nutrients. The map also allows you to view restoration projects. The map is designed to ensure transparency and accountability with respect to our water quality data and its availability to the public based on extensive stakeholder interviews that identified key concerns and desired information about water quality. Information for this map is provided by the Florida Department of Environmental Protection, Florida Fish and Wildlife Conservation Commission and Florida Department of Health.
Protecting Florida Together invites you to explore the areas of Florida that are important to you. Individual waterbodies within a watershed are highlighted based on the assessment status for total nitrogen, total phosphorus and chlorophyll-a for the listed waterbody. Additional nutrient-related impairments will be added to the map in the future, including those that better reflect springs impairments. 
Markers on the map indicate where a sample was taken to determine the presence of harmful algae or the presence of algal toxins. Categorical data are described below in greater detail.  After clicking on a marker, data for that location will be displayed and an explanation of the information provided.  The conditions presented on this map are representative of the time and location that the sample was collected. Actual environmental conditions can change quickly, and algal blooms may appear suddenly. Please always be aware of your surroundings and report any observed blooms at FloridaDEP.gov/AlgalBloom.
Protecting Florida Together additionally provides you the ability to view restoration projects by selecting the restoration projects tab and then selecting a basin management action plan area. Locational markers are provided where available and can be filtered based on project completion status. However, please note that not all projects have locational data. To view all basin management action plan restoration projects, select the "View All Projects" button.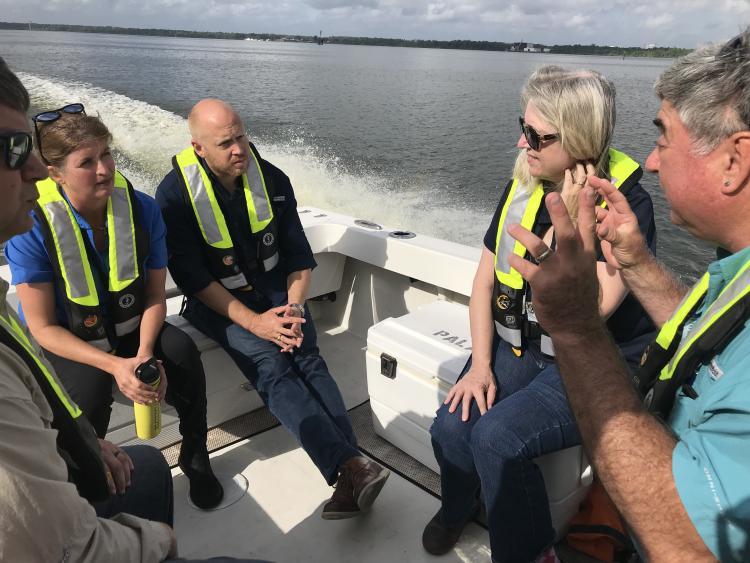 Health notifications displayed on the water quality map are intended to communicate known or possible health impacts based on prevailing water quality conditions. Specific health notifications are described in greater detail when you click on a marker.
Health notifications related to red tide and blue-green algae appear solely based on their presence at time of sampling. Relevant language is provided that describes the precautions individuals should take in these areas.
Two tiers of health notification are provided, caution and alert. A caution is issued when observations indicate that environmental or health effects are possible. A caution is provided for blue-green algae when either a bloom is observed during sample collection or when sampling results show the dominant species to be cyanobacteria. A caution is provided for red tide when Karenia brevis is detected at low concentrations, between 10,000 and 100,000 cells per liter.
Alerts represent a higher associated health risk than caution. An alert is provided for blue-green algae when cyanotoxins such as microcystin are detected in the water and recreators should avoid contact.  An alert is provided for red tide when Karenia brevis is detected at concentrations above 100,000 cells per liter, when environmental or health effects are likely.
Those interested in receiving email notifications for their area, may register by visiting the preference center.
Report 
Information On Blue-Green Algal Blooms
Report
Observe a stranded wildlife or fish kill
Information on Red Tide or Other Saltwater Blooms:
Report Human Illness
Florida Poison Control Centers can be reached 24/7 at 800-222-1222
Contact DOH County Office for Other Public Health Concerns
The Department of Environmental Protection, Florida Fish and Wildlife Conservation Commission and other local and regional entities regularly monitor Florida's water quality, and routinely collect algal bloom samples for analysis. Blue-green algae markers on the map are displayed when a sample is taken for blue-green algae. Data is submitted daily by field staff.
Field staff note whether bloom conditions, such as a scum layer or flecks, are present when the sample is taken. If bloom conditions are observed by DEP field staff, the marker will have a blue-green dot. The marker may also be a blue-green dot if bloom conditions are not observed by DEP field staff, but the sample taken shows it is cyanobacteria dominant. If the toxins commonly associated with blue-green algae, such as Microcystin, are detected at any concentration, this will be indicated by a red dot with an exclamation point added to the map marker. If toxins are not detected and bloom conditions are not observed, then the dot on the marker will show as grey. Please be aware, there is a time delay from the time a sample is taken to the time the analysis is completed at the lab to identify the presence of toxins, and therefore displayed on the map. Always be mindful that blue-green algae can appear or disappear more quickly than reports may be received or updated.
Although blue-green algae occur naturally in Florida's waterbodies, increases in the delivery of nutrients to any particular waterbody can promote algal growth that ultimately leads to the formation of an algal bloom. Other factors that often contribute to algal blooms include warm water temperatures and changes in water flow. Although they can occur at any time, blue-green algae blooms are most common in Florida during the summer and early fall when sunlight is abundant and water temperatures are highest. The summer also brings storms that have the potential to affect the delivery of nutrients into waterways through stormwater runoff.
Families can use the water quality map before visiting featured waterbodies.
Gold red tide markers are displayed on the map when the algae that causes red tide, Karenia brevis, has been detected above background concentrations. Data is received from FWC daily.
Each gold marker will include a colored dot (gray, white, yellow, orange or red) indicating the concentration level of red tide present at that location.  If red tide is not reported again after eight days at that location, the marker will be removed from the map. Florida's efforts and research on harmful algal blooms have been sustained at a high level for many years. Red tide occurs naturally almost every year. Since the severe blooms in 2018, the state and its partners have placed a renewed effort on collaboration and communication of harmful algal bloom information to the public.
The water impairment tab shows whether a waterbody is attaining standards for total nitrogen, total phosphorus and chlorophyll-a based on DEP's watershed assessment in accordance with the Impaired Waters Rule. Watersheds with a waterbody not attaining one or more of the standards for total nitrogen, total phosphorus, or chlorophyll-a appear purple. Watersheds with a waterbody attaining standards for total nitrogen, total phosphorus and chlorophyll-a appear blue. Watersheds with insufficient data to determine the impairment status appear grey.
The "View Waterbody Details" button provides information on the waterbody assessed and shows the assessment status individually for total nitrogen, total phosphorus, and chlorophyll-a.
Additionally, when sufficient data is available, the "View Waterbody Trends" button shows a graph of annual geometric mean concentrations (AGMs) for total nitrogen, total phosphorus, and chlorophyll-a over the last 10 years. The AGMs included in the most recent waterbody assessment are highlighted as blue or purple depending on the outcome of the assessment as attaining standards or not, respectively. The analyte of interest is selected above the graph title. A second graph shows all monitoring data for the selected analyte for the last 10 years from representative stations used for the waterbody assessment. The "Get More Data" button allows users to search for additional monitoring data from the Watershed Information Network.
If present on the graph, the horizontal line represents a threshold value for the waterbody. Annual geometric mean results above this line indicate that water quality problems and impairment are more likely, and results below this line indicate that problems and impairment are less likely. The threshold values are only applicable to annual geometric means. They do not have meaning relative to the individual sample results. Threshold values are not provided for every waterbody, because for some waterbody types, it is more appropriate to examine a different water quality parameter or to use a different calculation approach.
For example, springs have no thresholds for total nitrogen, total phosphorus, or chlorophyll-a, because the standard for springs is nitrate-nitrite. For some other waters, the applicable criteria are based on nutrient loading (e.g., kilograms per year) instead of a concentration (e.g., milligrams per liter) or the standard is not an annual geometric mean. For some estuaries, multiple criteria apply, because the waterbody comprises more than one estuary nutrient region. For these waters, the threshold value is the average of the individual estuary nutrient regions.
Some waterbodies have site-specific, loading-based criteria (e.g., pounds per year) that were set when the department adopted a Total Maximum Daily Load for the water. As such, these waterbodies will continue to be identified as meeting or not meeting its their criteria until the department can confirm the nutrient loading criteria have been achieved, irrespective of the nutrient concentration results of routine monitoring.
Additional detail on the data and methodology for blue-green algae, red tide, nutrients and chlorophyll, and restoration projects is provided below.  
Blue-Green Algae
Markers for blue-green algae appear within 24 hours of sample collection. After ten days, the marker will be removed from the map. If a follow-up sample is taken, the information on the sample will reflect any new information.
Algal bloom samples are inspected to identify the type of algae present. If the algae identified can produce toxins, the water is then tested to determine if toxins are present and at what concentration.  Once testing is complete, information is displayed under Health Notification to indicate whether cyanobacteria was the dominant species detected and whether toxins were present at the time the sample was collected.
DEP currently monitors for cylindrospermopsin, anatoxin a, and the following 9 species of microcystins: MC-LR, MC-LA, MC-LF, MC-LW, MC-LY, MC-RR, MC-WR, MC-YR, and Desmethyl MC-LR. If the dominant species of cyanobacteria can produce saxitoxin, then DEP also tests for saxitoxin. Although other variants of microcystins exist, DEP does not test for all variants due to a lack of commercially available testing materials. DEP continues to expand their monitoring program as reliable test methods become available.
Red Tide
Red tide data are provided daily from the FWC's Fish and Wildlife Research Institute Harmful Algal Bloom Database. Data presented on Protecting Florida Together represents the most recent eight days of sampling location points for the phytoplankton that causes red tide, Karenia brevis. While every practical step has been taken to provide accurate data, the need for rapid distribution precludes extensive review.  
Nutrients & Chlorophyll
Total nitrogen and total phosphorus are measured in milligrams per liter. Chlorophyll-a is measured in micrograms per liter. The total nitrogen result uses the "Nitrogen-Total" field from the DEP's Impaired Waters Rule database.
The Annual Geometric Means (AGMs) displayed under the waterbody trends section are calculated in accordance with the Impaired Waters Rule. The minimum number of sampling results to calculate an AGM at each station is four (by parameter), with at least one sample taken between May 1 and Sept. 30. Station-parameter combinations that do not meet the minimum requirements are indicated by the label "Insufficient Data." Not all the data are useable in annual geometric mean calculations; "qualified" data are reported results that come with cautions about how they should be used and interpreted.
The following table defines common qualifier codes that may be associated with data: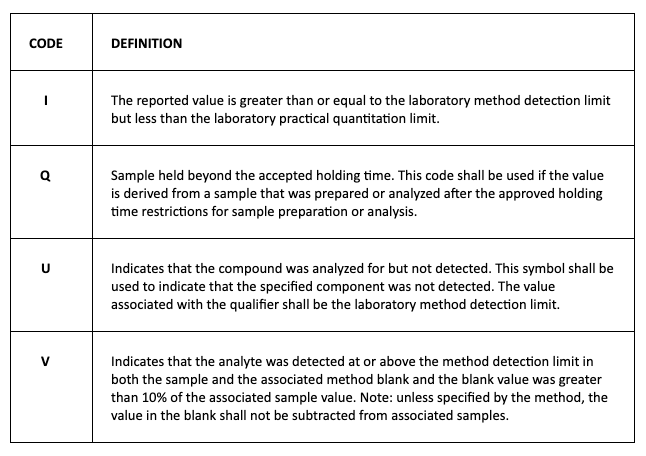 Data that is reported with the above qualifier codes are used in the following way when calculating annual geometric means:
Samples with V or Q qualifier codes were omitted from calculations.

Samples with I qualifier codes were set to the method detection level of the analysis.

Samples with U qualifier codes were set to half the method detection limit or half the criterion, whichever is lower.
Restoration Projects
The map displays restoration projects in the adopted basin management action plans (BMAPs) that are in effect for impaired Outstanding Florida Springs (OFS). DEP has adopted five additional BMAPs addressing all the other impaired OFS. These five BMAPs are not yet in effect, however, pending the outcome of legal challenges. The additional statutory protections provided by the Florida Springs and Aquifer Protection Act have been delayed in these areas, and these areas are therefore not displayed on the map.
The five BMAPs referenced above are Wekiva/Rock, Suwannee, Santa Fe, Volusia Blue and Silver/Rainbow.